E-mail:eric@zeayeto.com
Tel:13632760179
Why Does Motor Oil Turn Black?
What causes black motor oil?And when your oil darkens does it mean it's time to change it? Well, there are a couple of factors that can cause the former. Let's dig in.
Factors causing black motor oil
Heat cycles naturally darken motor oil. During your drive to work in the morning, your engine reaches normal operating temperature (typically 90ºC–104ºC]), heating the motor oil. Then the oil cools while your car sits in the parking lot. During lunch, the oil again is exposed to heat during your drive to Walmart for butter and shoe laces. The process repeats on the way home. And the next day. And the next.
That's what's meant by "heat cycles." The continual exposure to periods of high heat naturally darkens motor oil.
Some additives in motor oil are more susceptible to darkening in the presence of heat than others. In addition, normal oxidation can darken oil, too. Oxidation occurs when oxygen molecules interact with oil molecules and cause chemical breakdown, just like how oxygen causes a cut apple to brown or iron to rust. High heat accelerates oxidation.
Soot causes oil to turn black
While heat cycles cause oil to darken, soot causes oil to turn black. Most people associate soot with diesel engines, but gasoline engines can produce soot as well, particularly modern gasoline-direct-injection engines.
Soot is a byproduct of incomplete combustion. Since soot particles are less than one micron in size, they typically don't cause engine wear. For comparison, a human hair is roughly 70 microns in diameter.
If soot particles agglomerate into larger wear-causing contaminants, the oil filter will catch them. Sometimes people who use bypass filtrationsystems, which can filter contaminants down to two microns, express surprise that the motor oil is still black. Soot, however, can still elude filtration down to two microns. Any finer filtration and the filter could catch dissolved additives in the motor oil.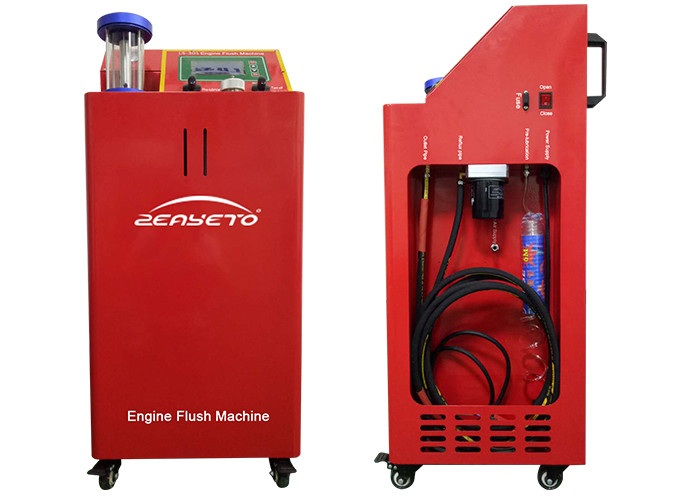 Zeayeto Engine Flush Machine
The color of the oil indicates when it's time for an oil change?
It's common to assume that black motor oil has worn out or become too saturated with contaminants to protect your engine and requires changing. Not necessarily. As we saw, discoloration is a natural byproduct of heat and soot particles, which are too small to wear out your engine.
Absent oil analysis, it's best to follow the oil-change recommendation given in your vehicle owner's manual or by the motor oil manufacturer. The recommended service intervals are based on thousands of data points spanning years of use. It's best to trust the data, not your eye, in this case. Otherwise, changing the oil could amount to throwing away good oil.
Now, It's time to use our Engine Flush Machine to flush and clean the engine oil. It also can flush and exchange the engine oil automatically at the same time, easy and effective. For more details, please contact us www.carcarboncleaningmachine.com
Shenzhen Zeayeto Automotive Technology Co.,LTD is a high-tech automotive maintenance equipment manufacturer and exporter ever since 2013. The products apply to gasoline&diesel vehicle. It is widely used for maintenance of combustion engine, transmission, power steering, lubrication system, water cooling system, air conditioning system, brake system etc, which provide intelligent and convenient way in automotive aftermarket worldwide. We persist being the leading smart automotive maintenance solutions provider and manufacturer.Zeayeto supplies products to 57 countries. Sales revenue in 2018 is USD5.97 million. With 100+ well trained and skilled employees,our annual capacity are 24 thousand pieces. Over 10 series equipment, All come with CE, FCC,REACH, ROHS marks. ISO 9001 and ISO14001 have been certified. We utilize advanced production and inspection facilities from Japan,Germany and USA. The inspection occurs throughout whole process flow. On the top of that, we invest 10% sales revenue in R&D of core technology and new facilities to improve competitiveness . Hence, the OEM/ODM project is absolutely doable and welcome.Customer Oriented, Quality Focused, Technology Driven are our non-stopping business philosophy. Zeayeto is always innovating technology and aiming to became a famous international brand in the automotive maintenance industry.Zeayeto Business philosophy: Technology Driven、Customer Oriented、Quality Focused.Zeayeto Mission and target: 1、Providing reliable products Zeayeto assists its customers achieve sustainable economic benefits.                                             2、To be a famous international brand in the automotive maintenance industry.Zeayeto Values: Innovation、Professional、Cooperation、Concentration、Responsibility、All Win.
Address:

3rd Floor, Building 59, Third Industrial Zone, Xitain Community, Gongming Street, Guangming New District Shenzhen China