E-mail:jerry@zeayeto.com
Tel:13612972910
2019 New All-Round Engine Carbon Cleaning Suit
Issue Time:2019-03-19
Some customers of car care shops may be confused that what if the car owner doubt their cars are cleaned completely or not by the Hydrogen engine carbon cleaner. Obviously, most people all prefer to believe what they have seen the effects by the exhaust carbon from the escape-pipe. However, as we all known, the principle of Hydrogen and Oxygen engine carbon cleaner is to burn the carbon in the engine with Hydrogen and then become O2 and CO2, which is more environmental friendly. Therefore, the car owners may think they are cheated by the car care shops.
But now, that problem is not a problem any more. Our company pushed out a new engine carbon cleaning machine suit, which includes Hydrogen engine carbon cleaning machine(HO1500), Chemicals engine carbon cleaning machine(TD501), 4 kilograms electrolytes and 50 sets detergent. The reason why we combined this two machine is that the working principle, the operation way and the function of TD501 and HO1500 are different and it can make more profits for the user. HO1500 mainly clean some parts of Three-way catalytic and combustion chamber. The advantages of Hydrogen engine carbon cleaning machine are that there is no need to disassemble the engine when the user clean the engine carbon for car owners. And it is more protective for the car engine than the chemicals engine carbon cleaner. TD501 mainly clean intake, the carbon of fuel system and Three-way catalytic. However, it need to disassemble the engine to clean carbon, which is more complex but can clean the carbon much completely. What's more, TD501 can help the mechanic show the effects of engine carbon cleaning by the machine to the car owner. Because after carbon cleaning by TD501, the engine carbon will come out with the cleaning agent and the mechanic also can use the endoscope of TD 501 showing the inner of engine parts whether were cleaned completely. Usually, using Hydrogen engine carbon cleaner to remove the carbon needs 20 minutes, but chemicals engine carbon cleaner need more than 40 minutes. Nevertheless, we need to face the reality that we need to clean the carbon completely for our customers. So we all know that how many engine parts need to be cleaned, which are valves, combustion chambers, fuel system(nozzles), Three-way catalytic, spark plugs and exhaust pipes(not in the engine but need to be cleaned)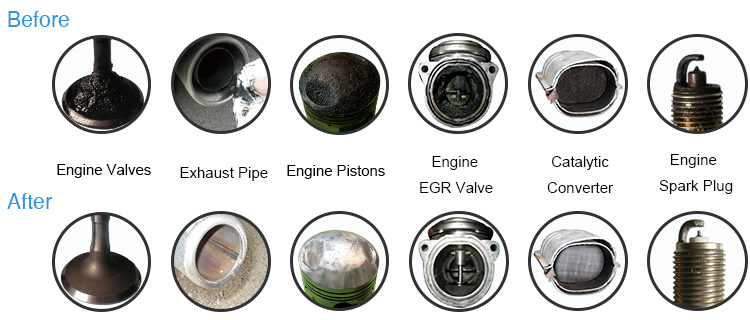 However, at present, Hydrogen engine carbon cleaner can only clean the combustion chamber and parts of catalytic converter. And it is mainly used to remove the engine carbon in the combustion chamber. So we need to clean the other three parts of engines by the TD501(chemicals engine carbon cleaner).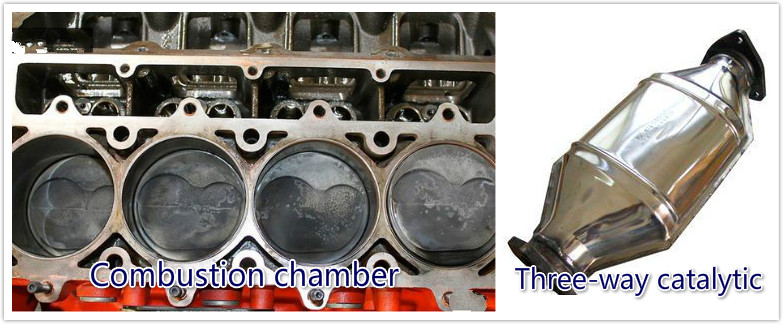 Last but not least, the price is more competitive than you only buy one machine! If you only buy one HO1500, you should pay $3100, and you just can earn about $80 once. If you only buy one TD501, you need to pay $2400, and you just can earn about $90 once. If you buy the engine carbon cleaner suit, you just can take it by $5000, but HO1500+TD501=$5500, and you should buy the detergent additionally. But this suit includes 4kg electrolytes and 50 sets of chemicals for free. Besides, if you use this two machine to clean the engine carbon at the same time, you can get double profits about $170 once and make the engine carbon cleaning more professional.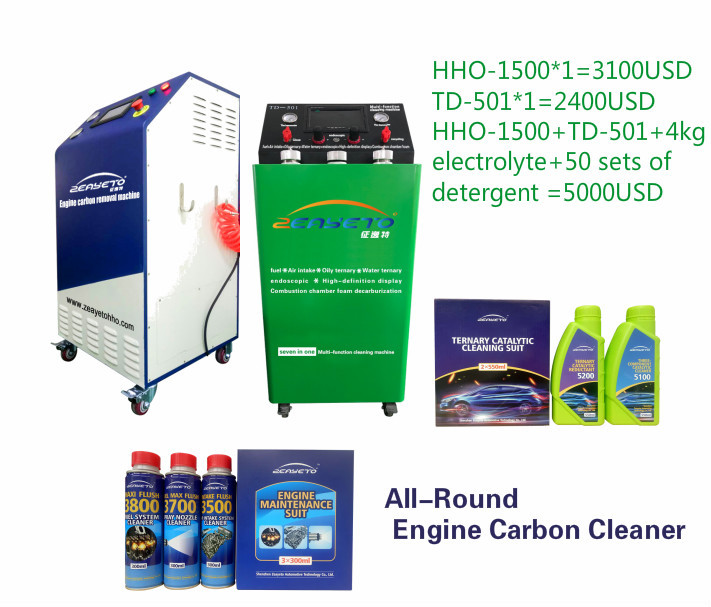 More details about the all-round engine carbon cleaner suit please contact us.
We are looking for distributors all over the world and we will offer you the most competitive price and the best service.
Shenzhen Zeayeto Automotive technology co., LTD. Is a collection of automobile maintenance, testing, and other series of cleaning equipment research and development, production, sales and after-sales service in the integration of high-tech enterprises, the product coverage of gasoline fuel, diesel fuel, combustion engine, transmission, power steering, lubrication, water cooling, air conditioning, nine brake system, as many as 30 balance cleaning, maintenance, testing equipment, etc.In 2015, the company successfully obtained the European Union CE certification for its products, and participated in domestic and foreign auto insurance exhibitions and expos in Germany, Russia, Hong Kong, Beijing, Shanghai and Guangzhou for many times. With excellent and stable performance and reliable quality, the products have been well received by exhibitors and users.With the rapid growth of sales, the company has entered the road of rapid development.By the end of 2017, our company had more than a thousand domestic dealers, agents and users, covering all provinces and cities in China, as well as southeast Asia and Europe and Asia.Our company relies on its own research and development team to have multiple patents, as well as core precision parts processing ability, complete assembly line, ERP, CRM and other management tools and systems.Adhering to the development concept of integrity, innovation, friendliness and concentration, and making it a core value of leda people. We will build the most professional equipment "smart" manufacturers in China to make people's lives better.
Address:

3rd Floor, Building 59, Third Industrial Zone, Xitain Community, Gongming Street, Guangming New District Shenzhen China