E-mail:eric@zeayeto.com
Tel:13632760179
Our New product 'HHO 1500' is on the Market
On February 15th, 2019, Our engineer Mr. Luo informed us that the engine carbon cleaning machine has been updated by his group. The model of this new machine is HHO-1500, which can clean auto engine carbon through generating Hydrogen and Oxygen, burning with the carbon.
Here is the main picture of HHO-1500: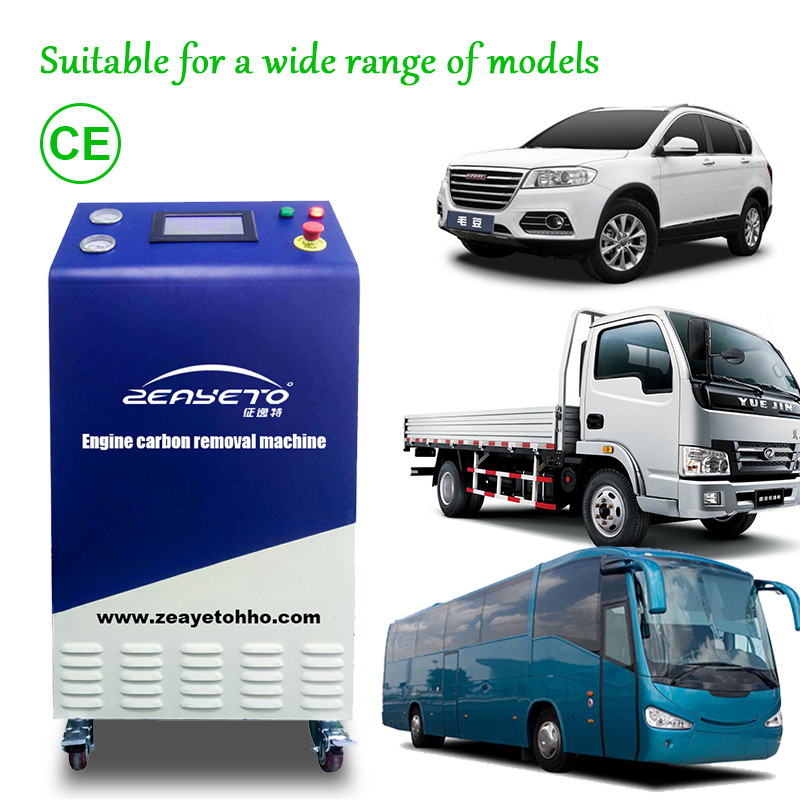 1. The principle of Hydrogen and Oxygen engine carbon cleaning machine.
Hydrogen oxygen machine, also known as the hydrogen-oxygen generator, is a device that produces hydrogen and oxygen by electrolysis of water. The hydrogen-oxygen generator rectifies and converts the power frequency (alternating current) into direct current, and decomposes in Electrochemistry alkaline water (H2O) in the electrolytic cell to form hydrogen ions (H+) and hydroxide ions (OH-), wherein hydrogen The ions move toward the cathode surface of the electrode plate to form hydrogen gas (H2), and the hydroxide ions move toward the anode surface of the electrode plate to form oxygen (O2).
The hydrogen-oxygen carbon removal machine produced by our company is used the above principle to generate hydrogen and oxygen in the electrolytic cell, which is cooled by a cooling device and processed by a safety device, and then sent to the automobile engine through a hose to remove the automobile by the high-efficiency permeability of hydrogen molecules. The engine engine carbon deposits, improve combustion efficiency, restore the horsepower and torque set by the original engine, and achieve the purpose of saving fuel and saving energy and reducing exhaust emissions.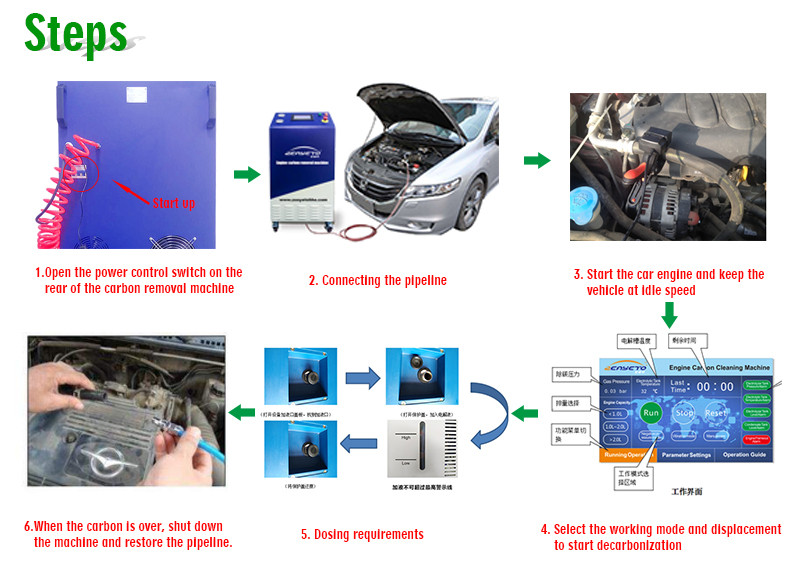 2. Advantages

Compared with the TD-501(also a engine carbon cleaning machine), HHO-1500 is more environmental friendly. The medium used during working is pure water, so it is more safe for the car engine. And the exhaust produced during working is CO2 mixing steam rather than the harmful chemical gases. What's more, it can be used for all the auto, including diesel powered car, the truck, and also the bus, which has covered the shortage of TD-501.
3. The parameter
| | | | |
| --- | --- | --- | --- |
| Working life | 80,000 Hours | Voltage | AC 220V/50Hz |
| Color | Bule | Application | Auto engine |
| Weight | 100kg | Certification | CE |
| Power | 4.5Kw | Warranty | 1 year |
| Item Name | Engine carbon removal machine | Function | Engine carbon cleaning |
| Sort | Car maintenance | MOQ | 1set |
| Model Number | HHO1500 | Price | 3100 |
| Scope | all cars | Port | Shenzhen |
If you are interested in this machine, Please contact us!
Enquiry email: karry@zeayeto.com
Shenzhen Zeayeto Automotive Technology Co.,LTD is a high-tech automotive maintenance equipment manufacturer and exporter ever since 2013. The products apply to gasoline&diesel vehicle. It is widely used for maintenance of combustion engine, transmission, power steering, lubrication system, water cooling system, air conditioning system, brake system etc, which provide intelligent and convenient way in automotive aftermarket worldwide. We persist being the leading smart automotive maintenance solutions provider and manufacturer.Zeayeto supplies products to 57 countries. Sales revenue in 2018 is USD5.97 million. With 100+ well trained and skilled employees,our annual capacity are 24 thousand pieces. Over 10 series equipment, All come with CE, FCC,REACH, ROHS marks. ISO 9001 and ISO14001 have been certified. We utilize advanced production and inspection facilities from Japan,Germany and USA. The inspection occurs throughout whole process flow. On the top of that, we invest 10% sales revenue in R&D of core technology and new facilities to improve competitiveness . Hence, the OEM/ODM project is absolutely doable and welcome.Customer Oriented, Quality Focused, Technology Driven are our non-stopping business philosophy. Zeayeto is always innovating technology and aiming to became a famous international brand in the automotive maintenance industry.Zeayeto Business philosophy: Technology Driven、Customer Oriented、Quality Focused.Zeayeto Mission and target: 1、Providing reliable products Zeayeto assists its customers achieve sustainable economic benefits.                                             2、To be a famous international brand in the automotive maintenance industry.Zeayeto Values: Innovation、Professional、Cooperation、Concentration、Responsibility、All Win.
Address:

3rd Floor, Building 59, Third Industrial Zone, Xitain Community, Gongming Street, Guangming New District Shenzhen China