E-mail:jerry@zeayeto.com
Tel:13612972910
What are the benefits of using ABS-201 to change oil for cars?
Issue Time:2019-01-22
ABS-201 Brake intelligent equal oil changer:
The high-precision weighing sensor is used for weighing, and the all-intelligent computer board precisely controls the oil for the same amount. One person operates, and the four wheels simultaneously pump oil, which can quickly complete the oil change work, saving time and effort. The pipeline is made of professional custom tubing to avoid corrosion. The internal templating design has a very low failure rate. High-precision equal exchange of old and new oil, how much new oil is added to extract old oil, to avoid air entering the brake system. It is a good assistant for the maintenance of the brake system.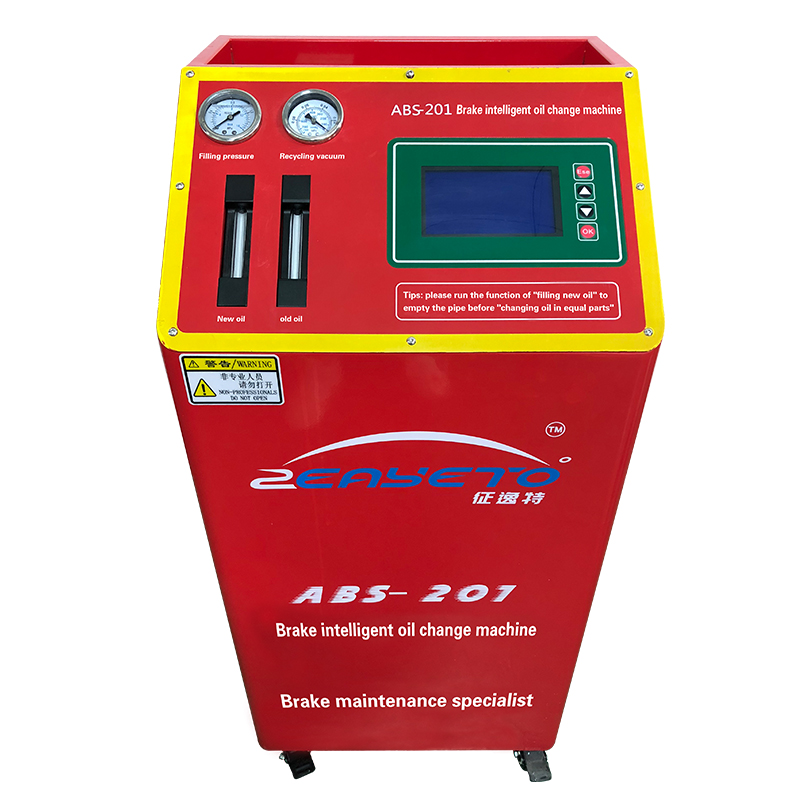 What are the advantages of our equipment compared to other equipment?
Features:
1. Four sub-pumps change oil at the same time, saving time and labor.
2. Powerful recycling function to recover old brake fluid at the same time and quickly.
3. New and old oil pipelines are designed independently to prevent cross-contamination of new and old oil.
4. Large capacity old oil drums for continuous replacement of multiple vehicles.
5. External new liquid and old liquid observation window, the contrast effect is more intuitive.
6. Fill with electric pump to avoid new liquid doping.
7. Imported corrosion-resistant tubing, beautiful, durable and easy to move.
8. Applicable to models in Europe, America, and Asia.
9. Effectively solve the problem of time and effort in manually replacing the brake fluid.
10. Improve the performance of the brake system.
11. Extend the life of the brake system.
Functions:
1.Equally exchange brake oil function;
2.Fill the brake oil function;
3.Recover brake oil function;
4.Emptying old and new oil functions;
5.Flush the brake line function;
6.Quick calibration of electronic scales.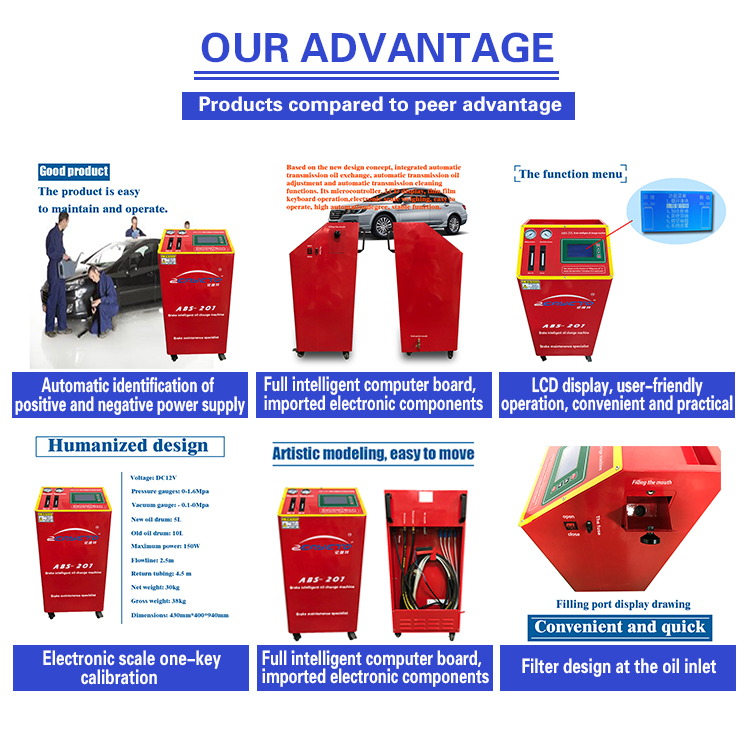 Note: Close the drain valve after draining the waste. Check that the valve is closed before using the washer again.
Main features:
Automatic identification of positive and negative power supplies
Vacuum pumping old liquid, fast returning liquid
New and old window display, oil change effect at a glance
Fuel filler with filter design
Fully intelligent computer board, imported electronic components, performance and stability
Special custom fast female, the industry's first, high-end quality and long service life
LCD display, user-friendly operation, convenient and practical
One-button oil change to avoid cumbersome operations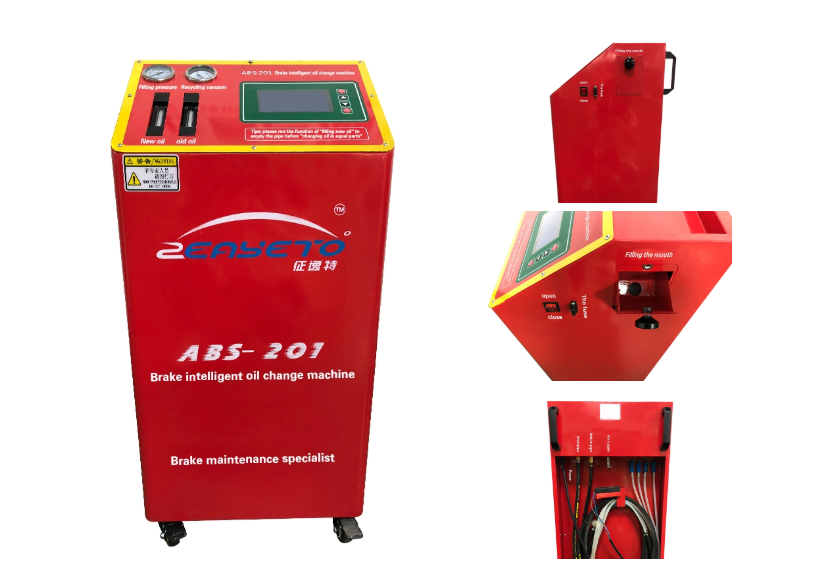 ABS-201 brake intelligent equal oil changer is a cabinet structure with handles on the top and brake casters on the bottom. It is very convenient to move and fix. The oil pipe adopts imported corrosion-resistant oil pipe, and the old liquid tank recovered is large-capacity, contrasting, high-end atmosphere, micro-computer control operation, blue LCD screen display is simple and clear, so that your operation is more convenient.
Shenzhen Zeayeto Automotive technology co., LTD. Is a collection of automobile maintenance, testing, and other series of cleaning equipment research and development, production, sales and after-sales service in the integration of high-tech enterprises, the product coverage of gasoline fuel, diesel fuel, combustion engine, transmission, power steering, lubrication, water cooling, air conditioning, nine brake system, as many as 30 balance cleaning, maintenance, testing equipment, etc.In 2015, the company successfully obtained the European Union CE certification for its products, and participated in domestic and foreign auto insurance exhibitions and expos in Germany, Russia, Hong Kong, Beijing, Shanghai and Guangzhou for many times. With excellent and stable performance and reliable quality, the products have been well received by exhibitors and users.With the rapid growth of sales, the company has entered the road of rapid development.By the end of 2017, our company had more than a thousand domestic dealers, agents and users, covering all provinces and cities in China, as well as southeast Asia and Europe and Asia.Our company relies on its own research and development team to have multiple patents, as well as core precision parts processing ability, complete assembly line, ERP, CRM and other management tools and systems.Adhering to the development concept of integrity, innovation, friendliness and concentration, and making it a core value of leda people. We will build the most professional equipment "smart" manufacturers in China to make people's lives better.
Address:

3rd Floor, Building 59, Third Industrial Zone, Xitain Community, Gongming Street, Guangming New District Shenzhen China